Congratulations to Carter Vu, the UW's current Astronaut Scholarship Foundation scholar, and the Catalytic Carbon team for snagging the $15,000 Alaska Airlines Grand Prize in the 2022 Alaska Airlines Environmental Innovation Challenge.
The team of aeronautics and astronomy, Master of Science in Entrepreneurship, and informatics students from the University of Washington utilizes a new recycling process that can quickly transform waste into carbon nanotubes and reusable hydrogen gas. They believe this solves an issue with current methods where only 9% of plastic is recycled correctly and over 75% ends up in landfills (according to the EPA).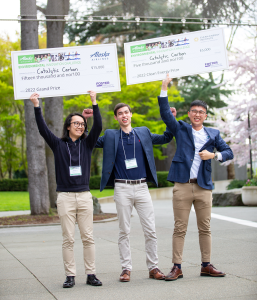 Vu, originally from Woodinville, has been a UW Space Grant Scholar since joining as a first-year student in 2018. For academic year 2020–2021, he was selected by the Astronaut Scholarship Foundation as their scholar at UW, an honor he successfully achieved again for the current academic year. Vu will graduate in June, after which he plans to pursue graduate studies in computational hypersonics at the University of Minnesota.
---
The annual Environmental Innovation Challenge is hosted by the UW Foster School's Buerk Center for Entrepreneurship. Read their announcement for more about the challenge and the top teams.